Gun Repair and Maintenance
Few things are more comforting or more useful than having a true expert at your call. That's why Second Amendment Sports is proud to boast a professional on-site gunsmith.
It's not unheard-of for a gunshop to keep a gunsmith on board, but the vast majority of these are send-out, not on-site. Having a gunsmith present at our facility means quicker turnaround and more responsive service for you.
Buying a used gun and want it cleaned? Buying a new gun and want it sighted, fitted with an accessory, or modified? Schedule a consultation while checking out and have your desired modification, cleaning, or repair completed when you pick up your firearm.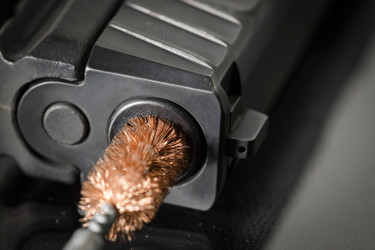 For a high-quality gun to stay a high-quality gun, there's a lot of care that has to be put in. A poorly maintained firearm not only runs the risk of misfiring, but more generally of degrading in smoothness of action and accuracy. Regular cleaning and maintenance is crucial to making sure your gun keeps working right and holds value. 
That's where our gunsmith comes in. Capable of performing every aspect of routine maintenance, from giving the barrel of your rifle a good scrubdown with a bore brush, to applying anti-rust lubricant, to cleaning the recoil spring in the buttstock of your autoloading shotgun, our gunsmith gives your firearm the professional care and attention to detail that it deserves.
Second Amendment Sports offers stand hand cleanings for all firearms, as well as ultrasonic cleaning for the highest level of care. Ultrasonic cleaning, similar to that used on fine jewelry, involves placing the gun in a special chamber that cleans it with heat and vibration.
Repairs and Modifications

Sometimes, guns needs repair work. In that event, we invite you to make full use of our gunsmith's extensive technical expertise. Whether your gun is an old friend you want fixed up or a new acquaintance you want restored, our gunsmith will get it operating at peak performance.
Or maybe your just doesn't fit your needs quite right. You like it, for the most part, but there's something that's just a bit off. In such a case, our gunsmith is ready and able to perform any modification you desire. Whether you want a different grip for your handgun, a different stock for your rifle, or to add a fresh finish or new sights or a long-range scope, our gunsmith can handle it. Get your gun customized, and it'll be like it was designed just for you.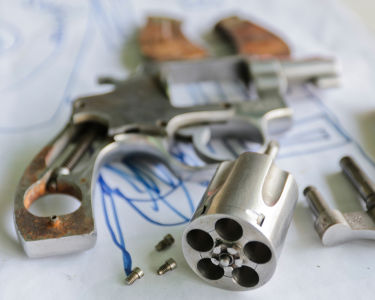 Start making new memories, enjoy new gear, and be part of a fresh community