No matter what you're in the market for, there seems to be a fascination and curiosity about our used gun inventory. And that inventory is quite extensive. From revolvers and pistols to rifles and shotguns – there's a pre-owned firearm that you might fall in love with right here at our store. Because of our gun buying and trading services, we constantly have a revolving arsenal of quality used guns. A used gun can give you options in your desired price range, or maybe something unique will catch your eye. Check back to this page to see a stream of our used gun inventory – but be aware that to ensure the availability and to get pricing details, it's best to call the shop or come in.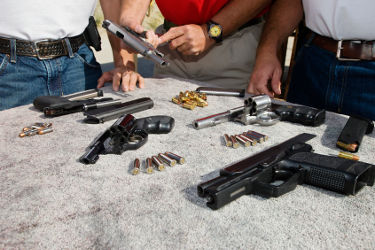 *Inventory subject to availability – please call or visit for pricing or details.
Because there's no guarantee on the warranty of used firearms, you may be concerned about what to do if you run into a problem with your gun. That's why we offer a Firearm Protection Program (FPP) for any firearm purchase. Available as either a one year or a five year plan, the FPP promises that we will manage the facilitation between you and the manufacturer to repair, or have repaired any defect in material or workmanship without charge to the you, the customer – including shipping costs associated with the transport of your gun from our facility to the manufacturer.

 

We also offer certified pre-owned guns from multiple top brands. These are guns which have been fired before or found to have some defect (often cosmetic), but have undergone close scrutiny during an inspection and grading process at the manufacturer's factory. They're often refurbished and include a certificate verifying their condition. Our relationship as a Master Dealer for Sig Sauer guarantees us the best access to their certified pre-owned stock. Sig Sauer and Beretta often buy back guns en masse from law enforcement departments. These firearms are often barely used, having been fired only a handful of times per year. Their value is comparable to that of a freshly-produced gun but can be sold at a appreciably discounted price.


So, if you want high quality with a smaller price tag, a pre-owned firearm could be the right fit for you. With used guns constantly rotating through our inventory, our stock is always changing and there's always something different available – and who knows, maybe someone is just about to bring us your dream gun.