About Second Amendment Sports

Long before Second Amendment Sports was even an idea, Bert Irslinger Sr. and his son, Bert Jr. were just gun collectors with a passion.
Whether it was a military piece, a cowboy classic, or a high-performance feat of modern gunmaking, the father-son duo were avid fans, hunting down all kinds of high-quality firearms. They traveled the gun show circuit, in search of anything rare or that caught their eye. As their hobby grew, they started making more trips further out of Illinois, and their collections flourished. As they branched out to other states, getting purchases home became increasingly difficult, forcing them to have vendors send the guns to licensed third-party firearm importers back home. They needed a solution to streamline the process.
To cut out the middleman and the hassle, they applied for their own Federal Firearms License—an application which required them to open a gun store in McHenry stocked with product. They put out word that they did FFL transfers, but didn't expect such a huge response.
Even without advertising, business picked up fast. The founders' passion, customer focus and expertise shone through, and demand kept pace. When clients offered firearms to trade, they started acquiring more used pieces. When the calls started coming in more frequently, they hired staff and moved to regular hours. When product consistently sold out, they started ordering more and forming vendor relationships to keep cases stocked. When the customer base outgrew their storefront, they started looking for a bigger location.
Soon enough, Second Amendment Sports was an established presence. What had begun as a modest enterprise transformed into a professional, structured business. Bert Sr. and Bert Jr. embraced this shift and the opportunity to better serve the gun community, building close relationships with top manufacturers and local dealers.
Second Amendment Sports has grown into a polished company with plans for further expansion, but the original motive was simply a passion for the gun industry. It's this love that drives the staff's dedication to their work. You won't get this level of customer care, expert advice, and exacting standards for quality at any other gun store.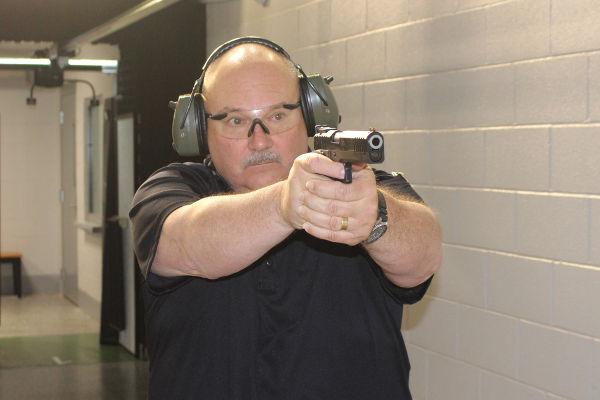 Meet our Head Instructor and Range Officer
Brad Guth / Instructor & RSO
I have been fostering ownership, use, and training of firearms for over 30 years.  Starting as we all do, as a volunteer, I was a RO at CCKC Bristol, ending up with 2 terms on the Board. In order to further our mission, we formed Action Shooting Sports in 2008. Changing careers, I turned an avocation into a job. Currently here at Second Amendment, I continue to provide a path to firearms for sport, defense, or competition, and am a 20-year member of the ISRA, and started one of the first ISRA Grass Roots committee, State Line Rifle Asc.
I have also been a state licensed security contractor since 2007. A member of the International Law Enforcement Trainers Asc, (ILEETA), and an NRA certified Rifle/Pistol Instructor, and a Chief Range Safety Officer. As an Endowment NRA member and recruiter, I was honored to chair the Lake County FNRA for 12 years, am the outgoing Chief Range Safety Officer for Oak Park Sportsmans Club. Action Shooting Sports officiated 3 gun events at CCKC Bristol, the Site in Mt. Carroll IL (formerly The Hollow), Bass Pro and other venues.
I hold certifications for IL. Concealed Carry Instructor, and also for Utah. Other certs include Advanced Pistol I and II, Intro to Patrol Rifle, Trauma for Range Officers from Team Spartan Training LLC. I have also Certs as an IDPA Safety Officer, and SASS RO1. I am currently also a Range Officer for the North Shore Police Pistol League. I enjoy bringing new shooters into the great fraternity of firearms enthusiasts, and also enjoy helping experienced shooters advance their skills.
State-of-the-art gun range
Latest gear, guns and accessories