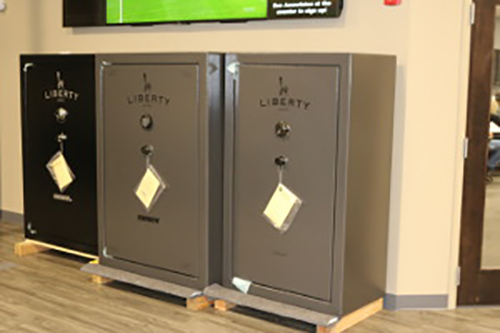 Liberty Safes are the definition of superior home gun safes. Not only do Liberty Safe products ensure unmatched quality, they ensure this quality for a lifetime. Liberty offers the industry's best Lifetime Warranty and unmatched customer support to assist you when you need it most.

Liberty Safe is America's #1 producer of heavy-duty home safes, gun safes, fire safes and commercial safes. Liberty has had 98% customer satisfaction ratings because of their unmatched customer service and Grade-A products.

Since 1988, Liberty Safe has been proudly building safes in the USA. Each safe is built by the hands of a skilled American worker to guarantee excellence each time. Liberty safes are built to uncompromising quality standards, with the security and reliability you expect from an American company.
 Satisfaction Guarantee
When you buy a Liberty Safe you don't just receive the highest quality safe around, you receive Liberty's #1-rated lifetime warranty, unmatched in the home safe industry. If your home, office, or gun safe ever experiences an attempted break-in or a fire, Liberty will repair or replace your safe for FREE. And that's for as long as you own your gun safe.